Relax your mind, body, and spirit at Laila's Spa. We offer an extensive menu of services and packages in a relaxing environment with the soothing touch of spa professionals. Our goal is to recapture the tranquility of our enchanting space as an area to relax and enjoy serenity.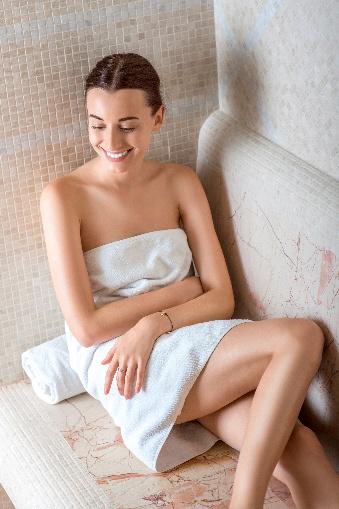 Located in Stockton, California
6231 Pacific Ave Suite B
Stockton, CA 95207
209-808-5241
lailasspa@gmail.com
Roman and Turkish Bath
Your pampering begins with 60 minutes in a private steam room where you'll lay down on a soft top marble bed. As you slowly melt away into deep relaxation, the steam therapy will begin to work on your skin, opening up your pores and bringing the impurities to the surface. Next, a skin therapist will exfoliate your body from head to toe using Turkish minerals. Then, with your choice of body scrub (brown sugar, sea salt, coconut, etc.), the skin therapist will perform an invigorating full-body scrub to loosen and wash away all skin impurities. After a thorough cleansing of the body using olive soap, your body will be lathered with essential oils to keep it soft and moisturized!
---
Discover the Benefits
Since the time of the Greek and Roman empires, medical practitioners have advocated for the health benefits of steam therapy.
Detoxification – The soothing warmth of steam opens pores. When one begins to sweat profusely, the skin on the body can release toxins from everyday living.
Stress Relief – The heat and moisture combination in steam rooms offers a relaxing atmosphere to calm the mind and lower stress levels.
Respiratory Health – Those with respiratory problems enjoy steam therapy because it has been known to help soothe throat irritation, loosen phlegm in the lungs and loosen mucous in the nose.
Muscle Relaxation – Steam showers generate heat, which in turn helps aching muscles relax. Widening blood vessels help release tension by allowing more oxygen to flow through the muscle tissue.
Skin Rejuvenation – Steam has been known to hydrate skin pores and open them up so that toxins can be flushed out. More efficient blood circulation also gives skin a healthy glow.
Better Sleep – There has been significant scientific data detailing the correlation between steam therapy and quality sleep patterns. Relaxing for just 20 minutes at the end of the day in a steam shower may help to regulate the body's core temperature and increase blood flow.
Overall Wellness – Many individuals have attested to the positive effects steam showers have on their mental health, including such things as helping relieve depression and anxiety